In Greenland you will find that a large number of the population possess special skills for craftsmanship and design. At Kitaa – Gemstones of Greenland we do our best to engage with many of our local designers and craftsmen here in Greenland in order to combine these competencies with some of the oldest known gemstones in the world for us to offer unique pieces of jewelry from Greenland.
Therefore, we are proud to have local and international designers contributing to our design and development.
Local Designers
We have recently hosted a design competition among local artisans and designers and we would like you to meet the two designers.
Meet Tupârna Simonsen – Greenland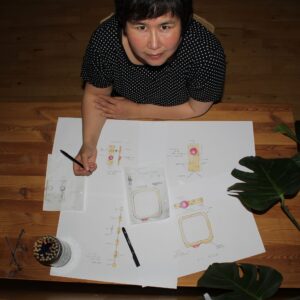 "My name is Tupârna (Dubaarna) Simonsen and I have two children. I am an elementary school teacher. I am very fond of design.
The country that we live in, whether it is spring, summer, autumn or winter, always has something to offer. When I look out the window, I see a lake surrounded by mountains and when I open the window, I can hear streams.
Greenland, where I grew up, has high mountains, and I have found it important to show this in my designs."
Meet Camilla Lennert – Greenland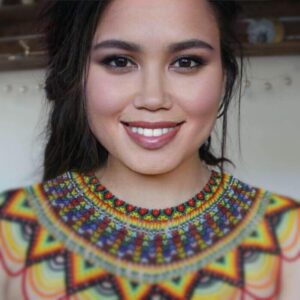 "I am Camilla Lennert, born and raised in Sisimiut. I believe that Greenland has the most breathtaking nature with its mountains, sea, and cool fresh air.
Greenlandic culture has a special place in my heart – the reason that I decided to study culture and social history. I am now working at Kittat, where preservation of the craft and knowledge in the making and history of the traditional clothing takes place.
In recent years, the traditional inuit tattoos has returned to the inuit society. The idea of the designs comes from those tattoos."
International Designers
From our international designers we currently have Kevin Friedman. Kevin has produced a minor collection of bracelets with rock crystal, lava stones, hematite and black agate in combination with our Greenlandic gemstones.
Meet Kevin Friedman – South Africa
The South African jewelry brand, Frankli Wild, was established in 1943 in Johannesburg and today Kevin Friedman is the seventh generation from a distinguished line of South African jewelers. A true artist in his own right, Kevin is a multi-international award-winning jeweler, artist, and jewelry historian.
With a unique design perspective, Kevin Friedman believes that jewelry exist to give pleasure to both the wearer and the observer. Known for pushing boundaries, his jewelry collections have featured the inclusion of various alternative materials all of which are set beautifully amongst precious metals and exquisite gemstones. You can learn more about the Frankli Wild brand and Kevin here.